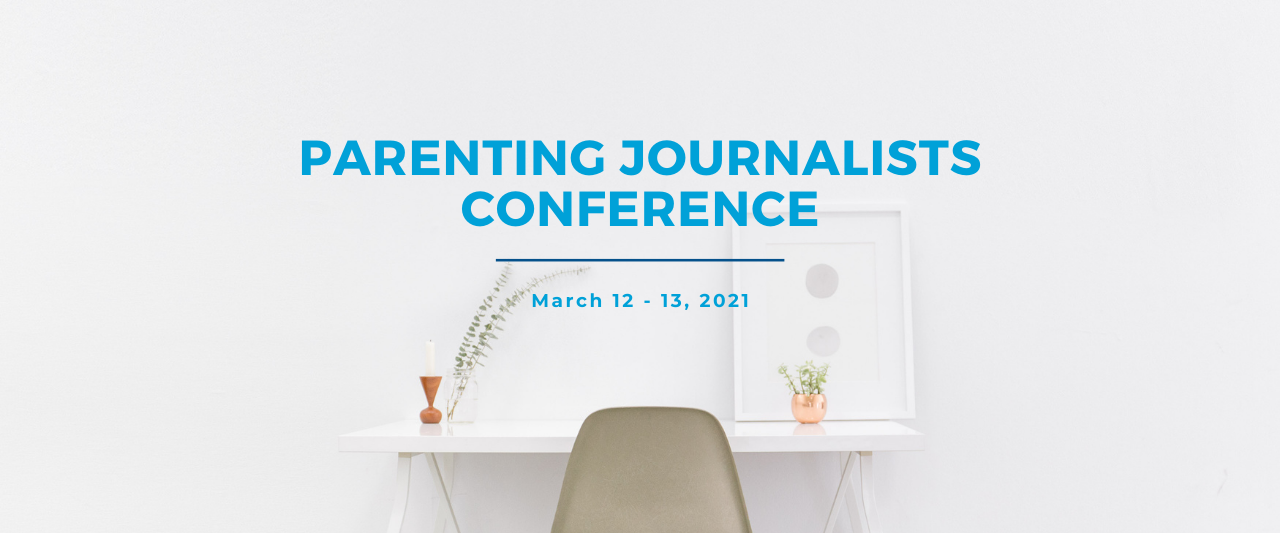 Friday, March 12, 2021 (10 am – 8 pm ET)
Habits for creativity, organization, productivity & working when times are hard
These journalists share the habits and practices that enable them to churn out columns and books, not to mention films and podcasts, while also raising a family. They'll offer productivity and creativity hacks, and get vulnerable about how to keep going in the face of hate mail, setbacks, or a global pandemic.
Aisha Sultan, St. Louis Post-Dispatch columnist and filmmaker
Christine Koh, podcast host, author, creative director, speaker
Laura Vanderkam, author, I Know How She Does It, podcast host, speaker
Moderator: Jyoti Gupta, educator and author, Different Differenter
Keynote Address: A Conversation with Adiba Nelson

Author Adiba Nelson will share the journey of penning her forthcoming memoir Ain't That A Mother and developing a television show based on her life as a Black mother, woman and daughter. In conversation with writer Chanté Griffin, she will open up about the challenges and triumphs as she drafted and queried her proposal, which ultimately led to a project with MACRO and SONY television. She will also speak about self-publishing her picture book Meet ClaraBelle Blue, now available in 20 countries, and the importance of representation and inclusion in the media.
Adiba Nelson, author, Ain't That A Mother and Meet ClaraBelle Blue
Chanté Griffin, freelance journalist
What editors want in a pitch
This roundtable of parenting editors will address how to pitch their publication, what to include, how to get their attention, and what NOT to do in order to land a byline.
Anna Halkidis, Parents
April Hussar, Romper
Courtney Schley, editor, Wirecutter, New York Times
Esther Carlstone, editor, Mom.com
Randi Olin, executive editor, Motherwell
Sherisa de Groot, Raising Mothers
Moderator: Ylonda Gault, author, Child, Please
Lunch / yoga / stretch break
Writing with an intersectional lens
The most meaningful stories often deal with an issue of identity, whether race, gender, LGBTQ+ or disability. This panel of writers will discuss how to navigate intersecting identities and sensitively cover marginalized communities. They'll offer advice for when to step back from a story and how to pitch these complex stories to editors.
A. Rochaun Meadows-Fernandez, founder of #FreeBlackMotherhood
Dani McClain, author, The Political Power of Black Motherhood
Jen Malia, professor and author, Too Sticky
Priscilla Blossom, writer
Moderator: Kirsten Palladino, author, Equally Wed
Inside the book deal
How do you write a winning book proposal? Pitch an agent? This panel of publishing industry pros will answer your questions about the path to a book deal. They'll tell you how to navigate the process — and manage your emotions along the way.
Howard Yoon, literary agent, Ross Yoon
Jordan Shapiro, author, Father Figure and The New Childhood
Nefertiti Austin, Motherhood So White
Moderator: Blanca Torres, writers and producer, KQED Forum
Connecting with your audience
No matter your goal, platform is key. But should that be a newsletter, podcast, social media presence? This panel will share their secrets for connecting with your audience, building a following, and maybe even getting a shoutout from Eva Mendes on Instagram.
KJ Dell'Antonia, author, The Chicken Sisters and How to Be a Happier Parent, co-host, #AmWriting podcast
Leslie Arreola Hillenbrand, founder, Latinx Parenting
Michelle Woo, editor at Forge, author, Horizontal Parenting
Moderator: Sharon Holbrook, editor, Your Teen for Parents
Cocktail party / structured networking / interest groups

Saturday, March 13, 2021 (10 am – 8 pm ET)
Monetize your voice: how to break into podcasting or speaking
How do you launch a speaking career? Can you make money as a podcaster, now that the market is so flooded? This panel will discuss the ways your words can make money off the page.
Christopher Farley, executive editor, Audible, author, Around Harvard Square
Deborah Reber, host, Tilt Parenting, author, Differently Wired
Jessica Lahey, author, The Gift of Failure and The Addiction Inoculation, co-host, #AmWriting Podcast
Moderator: Heidi Shin, public radio and podcast producer
Keynote: A Conversation with Gemma Hartley
From a viral Harper's Bazaar article to a book deal in a preempt, Gemma Hartley will share the journey of her book, Fed Up: Emotional Labor, Women and the Way Forward. Her book — written in just six months — resonates even more now, after a year of pandemic parenting, work, lockdown and being stretched from all ends. In conversation with writer Reema Zaman, Gemma will answer your questions about what worked in pitching her article, promoting it, choosing an agent, writing the book and all the lessons she learned along the way. Fed Up has been translated into 6 languages, and has taken Gemma to speak at the Sydney Opera House in Australia and the Gothenburg Book Fair in Sweden as well as TV appearances with Good Morning America and The Social.
Gemma Hartley, author, Fed Up: Emotional Labor, Women and the Way Forward
Reema Zaman, author, I Am Yours: A Shared Memoir, creator and screenwriter of Snap, host of Joy & Revolution with Reema Zaman
Become an editor's go-to writer
How do you land regular bylines in national publications, have your emails returned and even receive assignments? This panel of top editors will explain what they're looking for in a writer, their outlet's needs, and how to stand out from the pack.
Amy Joyce, On Parenting editor, The Washington Post
David Allan, editor, CNN
Julie Beck, Family editor, The Atlantic
Laura Lambert, managing editor, MOJO
Roberta Zeff, editor, The New York Times
Moderator: Erin Chan Ding, freelance journalist
Lunch / yoga / stretch break
Making a living as a parenting journalist
What revenue goals should you set as a parenting journalist? Can you negotiate better rates? This panel will address the dollars and cents, and offer different models for making a living while doing what you love.
Damon Brown, author, Build From Here
Jenni Gritters, co-host, The Writers' Coop
Matt Villano, writer
Sa'iyda Shabazz, writer
Moderator: Kelly Glass, writer and editor
Queering the Questions: LGBTQIA+ Inclusivity in Parenting Journalism
Stories of LGBTQIA+ families are being covered in various media at a growing rate. However, parenting journalism often overlooks and under-reports the stories of queer families. When they are explored, it's often as a novelty and not as a human experience that requires every bit of nuance in reporting as stories that center families with heterosexual parents. Through the perspectives of LGBTQIA+ parents who have been the subjects of media reports, and those who are also writers, this panel aims to discuss how to bring LGBTQIA+ stories to parenting journalism, how journalists can improve their interviews with LGBTQIA+ parents, and how to create more opportunities for LGBTQIA+ parenting writers.
Amber Leventry, LGBTQIA+ advocate and educator
Jasmine Banks, Parenting is Political podcast
Moss Froom, full spectrum doula and childbirth educator
Mystique Hargrove, full spectrum doula, Boho Wellness
Trystan Reese, Collaborate Consulting
Moderator: Nikkya Hargrove, writer
Essays: craft, pitching and protecting your children's privacy
Mining your life for inspiration is one thing — but how do you handle it when your child's life is central to your essays? Or if you're writing on a topic that could be hard for them to read, some day? Panelists will discuss the craft of personal essays, privacy concerns when writing about your offspring and how to get into your dream publication.
Doreen Oliver, playwright, Everything Is Fine Until It's Not
Tyrese Coleman, author, How to Sit
Vanessa Hua, author, A River of Stars and Deceit and Other Possibilities
Moderator: Olivia Monahan, editor-at-large, Voices SAC, Sacramento Bee
Cocktail party / structured networking / interest groups